PISA AIRPORT (PSA) INFORMATION
Origin
Airline
Flight no.
Scheduled
Est./Actual
Status
No flight arrivals were found at Pisa Airport.
Destination
Airline
Flight no.
Scheduled
Est./Actual
Status
No flight departures were found at Pisa Airport.
Car Hire at Pisa Airport
UNBEATABLE VALUE CAR RENTAL
Free Amendments | Free Cancellations | No Card Fees




Pisa Airport - All Information on Pisa International Airport (PSA) Pisa Airport
Piazzale D'ascanio, 1, 56121 Pisa PI, Italy
phone +39 050 849111
phone+39 050 849538 (Lost + Found)
emailufficio.permessi.psa@toscana-aeroporti.com (Lost+Found)
call_end+39050849216 (fax)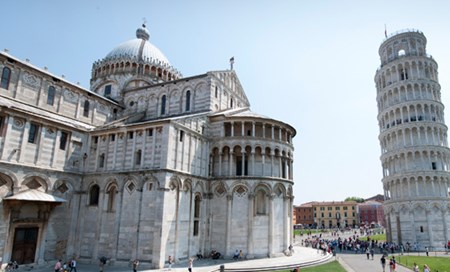 Pisa Airport or, as it is officially known, Pisa Galileo Galilei International Airport, is the most convenient and closest air getaway for the ancient city of Pisa - the airport is within a 1 km drive from the city center. The historic city of Florence lies within an 80 km drive.
Together with Peretola Airport that serves the city of Florence, Pisa is one of the two main airports in the Italian region of Tuscany, favourite with holidaymakers and house-hunters alike.
The airport takes its official name from the world-famous scientist Galileo Galilei, whose hometown Pisa once was. Some 5.2 million passengers flew in and out of the destination last year, as it is a popular gateway into the region, especially since it has its own railway station and offers onward rail transport via Pisa's central railway station, a mere 2 km away.
Arrivals, Departures and Airlines at Pisa Airport
Passengers arriving at Pisa Airport also have onward transport options available to them via taxi, bus and rental car. There are many car rental suppliers have their offices at the Car Rentals Terminal, which is located just a 5 minute walk from the passenger terminal.
For passengers with lots of luggage or those preferring to arrive at their car hire counter in style, there are convenient shuttle buses leaving at regular intervals from the passenger terminal to embark on the 500 meter journey to the Car Rentals Terminal.
Avis, Europcar, Hertz, Sixt, Maggiore, National, LocAuto, Advantage, Goldcar and Liberty Rent International are among the car rental providers offering a total of 1,500 cars, buses, minivans, convertibles and SUV's, station wagons and minis for business and leisure travel.
Pisa Airport started life as a military base and airfield; today it is still being used by the Italian Air Force. There are two asphalt paved runways for military and commercial aircraft to use. The airport serves as a hub for Air One and budget airline Ryanair.
Other well-known airlines using Pisa as a base are Air France, British Airways, Delta Air Lines, EasyJet, Lufthansa, Norwegian Air Shuttle, Germanwings, Alitalia, Wizz Air and budget airline Vueling among many others.
From Pisa passengers can fly to destinations like New York, Munich, Moscow-Vnukovo, Cologne/Bonn, Barcelona and Amsterdam, Bucharest-Henri Coanda and Sharm el-Sheikh, Copenhagen and Oslo Gardermoan for example.
The airport has five passenger parking lots and one for coaches with a total of 3,000 parking spaces in parking lots P1, P2, P3, P4 and P6. To make the facilities even more accessible for passengers with reduced mobility, parking is free for disabled persons and their escorts. The airport is barrier free with specially adapted toilet facilities, appropriate seating in the terminal, ramps and mobile lounges with lift access for wheelchair users. There are also handrails and elevators for easier access to the first floor.
The passenger terminal is open to the general public from 4.00 am to the final flight of the day. Passenger services include one airline and one railway ticket office, a police station and a fire brigade station, at least 20 shops, 6 bars and 2 pizzerias, 3 restaurants of which one is a self-service steakhouse, cafes and snack bars, a hair dresser, a ballet school, an Internet point, one bank for cash withdrawal and 2 exchange bureaux, not to mention a health station, a pharmacy and a Chapel.
The Tourist Information Desk is located just outside the Arrivals Hall, where a convenient hotel booking service is available alongside plenty of useful information about the Province of Pisa and the Tuscany region. There is also a Left Luggage and Safe Baggage Service and an Information Office for more general information and onward travel from Pisa Airport.
VIPs are not forgotten either - there is a VIP Lounge, which is accessible to passengers travelling business class, passengers with an airline company granting access and to holders of the Galilei Gold Card. In addition, passengers without any of the aforementioned can purchase a ticket for the use of the VIP Lounge at the Airport Ticket Office for EUR 15.00 plus VAT. Passengers are offered free WiFi access and can watch TV or catch up with the news through courtesy newspapers. A bar takes care of refreshments.
For more information about Pisa Airport, please visit the official website at www.pisa-airport.com or stay on these pages to find out more.
Hotels near Pisa Airport
There are a number of hotels to suit all budgets and requirements at or near Pisa Airport.
Parking at Pisa Airport
See options for parking services at Pisa Airport.
Additional Services and Amenities at Pisa Airport
At Pisa Airport you will find the usual array of bars and restaurants, airport lounges and shops.
Things to do in Pisa
There are a number of activities to suit all ages and interests in the region - see a selection of tourist activities in Pisa, Italy
Useful Information about Pisa Airport