Pisa Airport Arrivals (PSA)
Not all flights may be showing. If not available use search above to find your flight by airline, airport or flight number.
Origin
Airline
Flight no.
Scheduled
Est./Actual
Status
Copenhagen (CPH)
Norwegian
D83736
04:45
Scheduled
Manchester (MAN)
Jet2
LS883
04:50
Delayed
Gerona (GRO)
Ryanair
FR9522
05:10
16:53
Landed
Palermo (PMO)
Ryanair
FR9513
05:15
Scheduled
Frankfurt (FRA)
Air Dolomiti
EN8872 expand_more(1)
05:45
Scheduled
Frankfurt (FRA)
Lufthansa
LH7402
05:45
Scheduled
Elba Island (EBA)
Silver Air
SLD207
06:00
Scheduled
Cagliari (CAG)
Ryanair
FR9932
06:05
Scheduled
Zaragoza (ZAZ)
Portugal - Air Force
AFP10
06:22
Scheduled
Cologne (CGN)
Eurowings
EW896
06:45
Scheduled
Comiso (CIY)
Aeroitalia
XZ3816
06:55
Scheduled
Comiso (CIY)
Flexflight
W28567
06:55
Scheduled
Tirana (TIA)
Albawings
2B231
06:55
Scheduled
Amsterdam (AMS)
easyJet
U27825
07:00
Scheduled
London (LHR)
British Airways
BA606 expand_more(2)
07:05
Scheduled
London (LHR)
American Airlines
AA6450
07:05
Scheduled
London (LHR)
American Airlines
AA6412
07:05
Scheduled
Stockholm (ARN)
Norwegian
D84369
07:40
Scheduled
Berlin (BER)
easyJet
U25065
07:40
Scheduled
Malaga (AGP)
Ryanair
FR773
07:55
Scheduled
Stockholm (ARN)
Malta Air
FR7991
07:55
Scheduled
Gudja (MLA)
Malta Air
FR9993
07:55
Scheduled
Madrid (MAD)
Ryanair
FR9472
07:55
Scheduled
Oslo (OSL)
Norwegian
DY1866
08:15
Scheduled
Cork (ORK)
Ryanair
FR8128
08:15
Scheduled
No flight arrivals were found at Pisa Airport.
Flight Arrivals at Pisa Airport
Pisa airport arrivals have a large number of transport options available to them.
There is a wide selection of car rental providers with offices at the Pisa Airport Car Rentals Terminal, which is located within a 5 minutes walk of the passenger terminal. A convenient shuttle service transports passengers to this terminal. Among the well-known car hire operators are Avis, Europcar, Hertz and Sixt - providing together with their partner companies some 1,500 vehicles for hire.
The taxi rank is just outside the terminal and Pisa Airport arrivals will find a fleet of CO.TA.PI vehicles waiting for them. The taxis are operators by a cooperative and the average fare for the 1 km journey into Pisa's city center ranges from EUR 5.70 to EUR 8.00 plus a EUR 2.30 excess fare that is charged on Bank Holidays and on Sundays. The taxis are metered and the driver is obliged to switch on the meter before the journey commences. Passengers should ensure that the driver does this, before setting off.
To book a taxi passengers can call the Radio Taxi Service on 050 541 600 and they will be collected 24 hours a day. Taxi stands can be found on the arrivals side of the passenger terminal exit, at Pisa's central railway station in the city center and at the Piazza Duomo, also in the city center. For advance online bookings passengers should contact the taxi cooperative at www.cotapi.it.
From the passenger terminal Pisa arrivals have direct access via a covered walkway to the airport's own railway station, which is just a 40 meter walk away. Train tickets can be purchased at the information office located in the arrivals hall. The actual railway terminal can be found just outside the Check-In hall. The airport train service connects passengers with the central railway station in Pisa, from where passengers have access to Florence and many other towns and cities in Tuscany as well as other parts of Italy.
Pisa Airport arrivals can also board a large number of city buses that will transport them into the city center or further afield to cities such as Siena and Firenze, Lucca and Viareggio.
Coach transfer services to Florence for example are operated by Terravision and Autostradale with both companies providing a daily service to Florence S M Novella station. Coach tickets can be purchased at the information desk in the arrivals hall.
Coaches for Siena are operated by Train Spa and Autostradale, while city buses to Pisa are run by Compagnia Pisana Trasporti (CPT). These city center buses leave the airport every 10 minutes.
The Red LAM line or Linea Alta Mobilita travels on the main streets, crossing the Arno River via the Ponte Solferino. It eventually stops at the Field of Miracles, which is located just a 5 minutes walk from the Santa Chiara Hospital, where the famous leaning Tower of Pisa can be found by simply following hordes of tourists determined to get the best photograph for friends and family at home.
The Red LAM line also stops at the central railway station, at Piazza Vittorio Emanuele, at the Riverside, where it halts 4 times until it finally reaches the Santa Chiara Hospital stop.
Arrivals at Pisa Airport will find the airport boasts excellent facilities and services for travelers - from a multitude of shops to bars, cafes and restaurants to a bank branch, several ATM's, two exchange bureaux, a health center, a hair dresser and beauty salon, a chemist and free Internet connections to name but a few.
The airport has direct access to the Firenze-Pisa-Livorno dual carriageway, where motorists should take the Pisa Centro-Aeroporto exit to get to the city center or travel on the Genova-Rosignano A12 motorway, also taking the Pisa Centro exit.
Was your flight delayed or cancelled?
You may be eligible to receive up to 600 EUR compensation per person in your party..
Claim Now!
Beat the Queues
Don't stand sweating for 45 mins waiting for Security. Get a fast track and get through in 5 mins or less.
Book now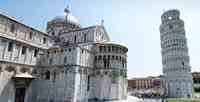 Most people will at one point or another have seen pictures of the famous leaning tower of Pisa...