Flights, Arrivals & Departures at Pisa Airport
Origin
Airline
Flight no.
Scheduled
Est./Actual
Status
Bari (BRI)
Ryanair
FR6185
07:35
07:14
Landed
Vantaa (HEL)
Norwegian
D82942
08:30
08:27
Landed
Olbia (OLB)
Volotea
V71783
08:35
08:16
Landed
Paris (ORY)
easyJet
U24803
08:40
08:13
Landed
London (LGW)
easyJet
U28315
09:10
08:49
Landed
Trapani (TPS)
Ryanair
FR4874
09:10
08:59
Landed
Brindisi (BDS)
Ryanair
FR6020
09:25
09:22
Landed
London (STN)
Ryanair
FR584
09:30
09:08
Landed
Frankfurt (FRA)
Air Dolomiti
EN8870 expand_more(1)
09:45
09:40
Landed
Frankfurt (FRA)
Lufthansa
LH7400
09:45
09:40
Landed
Ibiza (IBZ)
Malta Air
FR8875
10:05
10:03
Landed
Olbia (OLB)
Air Charter Scotland
EDC840
10:09
10:14
Landed
Manises (VLC)
Ryanair
FR9321
10:35
10:24
Landed
Elba Island (EBA)
Silver Air
SLD205
10:45
Unknown
Copenhagen (CPH)
CityJet
SK697
10:55
10:48
Landed
Catania (CTA)
Ryanair
FR6205
11:05
10:55
Landed
London (STN)
Malta Air
FR586
11:20
11:03
Landed
London (LGW)
easyJet
U28317
12:05
Scheduled
Cagliari (CAG)
Ryanair
FR6100
12:40
Scheduled
Tirana (TIA)
Wizz Air
W46649
12:55
Scheduled
Edinburgh (EDI)
Ryanair
FR3264
13:05
Scheduled
Zadar (ZAD)
Malta Air
FR1231
13:05
12:48
Landed
Brussels (CRL)
Ryanair
FR3745
13:25
Delayed
Dublin (DUB)
Ryanair
FR5308
13:25
Scheduled
Manchester (MAN)
easyJet
U22129
13:35
Scheduled
Bucharest (OTP)
Wizz Air
W43157
13:35
Scheduled
Prague (PRG)
Ryanair
FR8232
13:55
Scheduled
Krakow (KRK)
Ryanair
FR7932
15:00
Scheduled
Amsterdam (AMS)
Transavia
HV5423 expand_more(2)
15:05
Delayed
Amsterdam (AMS)
Delta Air Lines
DL7506
15:05
Delayed
Amsterdam (AMS)
KLM
KL2657
15:05
Delayed
Eindhoven (EIN)
Ryanair
FR9924
15:45
Scheduled
Decimomannu (DCI)
Italy - Air Force
IAM4679
15:49
Scheduled
Bordeaux (BOD)
Malta Air
FR9383
16:10
Scheduled
Bucharest (OTP)
Ryanair
FR6285
16:20
Scheduled
Copenhagen (CPH)
Norwegian
D83736
16:45
Scheduled
Manchester (MAN)
Jet2
LS883
16:50
Delayed
Gerona (GRO)
Ryanair
FR9522
17:10
16:53
Landed
Palermo (PMO)
Ryanair
FR9513
17:15
Scheduled
Frankfurt (FRA)
Air Dolomiti
EN8872 expand_more(1)
17:45
Scheduled
Frankfurt (FRA)
Lufthansa
LH7402
17:45
Scheduled
Elba Island (EBA)
Silver Air
SLD207
18:00
Scheduled
Cagliari (CAG)
Ryanair
FR9932
18:05
17:58
Landed
Zaragoza (ZAZ)
Portugal - Air Force
AFP10
18:22
Scheduled
Cologne (CGN)
Eurowings
EW896
18:45
Delayed
Comiso (CIY)
Aeroitalia
XZ3816
18:55
Scheduled
Comiso (CIY)
Flexflight
W28567
18:55
Scheduled
Tirana (TIA)
Albawings
2B231
18:55
Scheduled
Amsterdam (AMS)
easyJet
U27825
19:00
Scheduled
London (LHR)
British Airways
BA606 expand_more(2)
19:05
Scheduled
London (LHR)
American Airlines
AA6450
19:05
Scheduled
London (LHR)
American Airlines
AA6412
19:05
Scheduled
Stockholm (ARN)
Norwegian
D84369
19:40
Scheduled
Berlin (BER)
easyJet
U25065
19:40
Scheduled
Malaga (AGP)
Ryanair
FR773
19:55
Scheduled
Stockholm (ARN)
Malta Air
FR7991
19:55
Delayed
Gudja (MLA)
Malta Air
FR9993
19:55
Scheduled
Madrid (MAD)
Ryanair
FR9472
19:55
Scheduled
Oslo (OSL)
Norwegian
DY1866
20:15
Scheduled
Cork (ORK)
Ryanair
FR8128
20:15
Scheduled
Berlin (BER)
Ryanair
FR9956
20:45
Scheduled
Tirana (TIA)
Air Albania
ZB2009
21:15
Scheduled
Palma Mallorca (PMI)
Ryanair
FR1486
21:25
Scheduled
London (STN)
Ryanair
FR588
21:35
Scheduled
Budapest (BUD)
Ryanair
FR5023
21:45
Scheduled
Tirana (TIA)
Wizz Air
W43853
21:55
Scheduled
Paris (BVA)
Ryanair
FR7979
22:00
Scheduled
Billund (BLL)
Ryanair
FR7997
22:15
Scheduled
Gothenburg (GOT)
Malta Air
FR9488
22:15
Scheduled
Catania (CTA)
Ryanair
FR6492
22:45
Scheduled
Beirut (BEY)
Italy - Air Force
IAM4660
22:48
Scheduled
Marrakech (RAK)
Ryanair
FR8877
23:30
Scheduled
Alghero (AHO)
Ryanair
FR7999
23:35
Scheduled
Lamezia-terme (SUF)
Malta Air
FR6937
23:55
Scheduled
Destination
Airline
Flight no.
Scheduled
Est./Actual
Status
Trapani (TPS)
Ryanair
FR4873
06:00
06:12
En-Route
Ibiza (IBZ)
Malta Air
FR8874
06:05
06:08
En-Route
Brindisi (BDS)
Ryanair
FR6019
06:10
06:17
En-Route
Valencia (VLC)
Ryanair
FR9322
06:15
06:19
En-Route
London (STN)
Malta Air
FR585
06:25
06:27
En-Route
Edinburgh (EDI)
Ryanair
FR3265
07:10
07:17
En-Route
Catania (CTA)
Ryanair
FR6204
07:25
07:27
En-Route
Dublin (DUB)
Ryanair
FR5309
07:30
07:32
En-Route
Bari (BRI)
Ryanair
FR6184
08:05
08:06
En-Route
Olbia (OLB)
Volotea
V71782
09:05
09:05
En-Route
Helsinki (HEL)
Norwegian
D82943
09:10
09:25
En-Route
Paris (ORY)
easyJet
U24804
09:15
09:15
En-Route
Lecce (LCC)
Italy - Air Force
IAM4679
09:30
09:43
En-Route
London (LGW)
easyJet
U28316
09:45
09:58
En-Route
Cagliari (CAG)
Ryanair
FR6101
09:50
10:17
En-Route
London (STN)
Ryanair
FR587
09:55
10:15
En-Route
Prague (PRG)
Ryanair
FR8233
10:00
10:25
En-Route
Turkmenbashi (KRW)
MIAT Cargo
OM3184
10:10
10:31
En-Route
Frankfurt (FRA)
Air Dolomiti
EN8871 expand_more(1)
10:20
10:53
En-Route
Frankfurt (FRA)
Lufthansa
LH7401
10:20
10:53
En-Route
Zadar (ZAD)
Malta Air
FR1230
10:35
10:41
En-Route
London (LTN)
Air Charter Scotland
EDC840
11:30
11:46
En-Route
Bucharest (OTP)
Ryanair
FR6284
11:30
11:41
En-Route
Elba (EBA)
Silver Air
SLD206
11:30
Scheduled
Eindhoven (EIN)
Ryanair
FR9923
11:40
11:48
En-Route
Copenhagen (CPH)
CityJet
SK698
11:45
Scheduled
Beirut (BEY)
Italy - Air Force
IAM4660
12:00
Scheduled
Bordeaux (BOD)
Malta Air
FR9384
12:10
Scheduled
London (LGW)
easyJet
U28318
12:40
Scheduled
Tirana (TIA)
Wizz Air
W46650
13:35
Scheduled
Brussels (CRL)
Ryanair
FR3746
13:50
Scheduled
Girona (GRO)
Ryanair
FR9523
14:00
Scheduled
Bucharest (OTP)
Wizz Air
W43158
14:10
Scheduled
Manchester (MAN)
easyJet
U22130
14:10
Scheduled
Krakow (KRK)
Ryanair
FR7931
15:25
Scheduled
Amsterdam (AMS)
Transavia
HV5424 expand_more(2)
15:50
Scheduled
Amsterdam (AMS)
Delta Air Lines
DL7498
15:50
Scheduled
Amsterdam (AMS)
KLM
KL2656
15:50
Scheduled
Malta (MLA)
Malta Air
FR9992
16:05
Scheduled
Marrakesh (RAK)
Ryanair
FR8876
16:35
Scheduled
Gothenburg (GOT)
Malta Air
FR9487
16:35
Scheduled
Palma de Mallorca (PMI)
Ryanair
FR1485
16:55
Scheduled
Billund (BLL)
Ryanair
FR7996
17:10
Scheduled
Copenhagen (CPH)
Norwegian
D83737
17:25
Scheduled
Manchester (MAN)
Jet2
LS884
17:35
Scheduled
Palermo (PMO)
Ryanair
FR9514
17:40
Scheduled
Paris (BVA)
Ryanair
FR7978
17:40
Scheduled
Frankfurt (FRA)
Air Dolomiti
EN8873 expand_more(1)
18:25
Scheduled
Frankfurt (FRA)
Lufthansa
LH7403
18:25
Scheduled
Cagliari (CAG)
Ryanair
FR9931
18:30
Scheduled
Elba (EBA)
Silver Air
SLD208
18:45
Scheduled
Catania (CTA)
Ryanair
FR6491
19:00
Scheduled
Cologne (CGN)
Eurowings
EW897
19:25
Scheduled
Amsterdam (AMS)
easyJet
U27826
19:35
Scheduled
Tirana (TIA)
Albawings
2B230
19:40
Scheduled
London (LHR)
British Airways
BA607 expand_more(1)
19:55
Scheduled
London (LHR)
American Airlines
AA6843
19:55
Scheduled
Comiso (CIY)
Aeroitalia
XZ3817
19:55
Scheduled
Comiso (CIY)
Flexflight
W28568
19:55
Scheduled
Berlin (BER)
easyJet
U25066
20:15
Scheduled
Malaga (AGP)
Ryanair
FR772
20:20
Scheduled
Stockholm (ARN)
Malta Air
FR7990
20:20
Scheduled
Stockholm (ARN)
Norwegian
D84370
20:20
Scheduled
Lamezia Terme (SUF)
Malta Air
FR6936
20:35
Scheduled
Cork (ORK)
Ryanair
FR8129
20:40
Scheduled
Madrid (MAD)
Ryanair
FR9471
21:00
Scheduled
Alghero (AHO)
Ryanair
FR7998
21:00
Scheduled
Oslo (OSL)
Norwegian
DY1867
21:00
Scheduled
Berlin (BER)
Ryanair
FR9955
21:10
Scheduled
London (STN)
Ryanair
FR589
22:00
Scheduled
Budapest (BUD)
Ryanair
FR5024
22:10
Scheduled
Tirana (TIA)
Air Albania
ZB2010
22:15
Scheduled
Tirana (TIA)
Wizz Air
W43854
22:30
Scheduled
Flying To and From Pisa Airport
This page provides information about the destinations that can be reached via Pisa Airport.
Was your flight delayed or cancelled?
You may be eligible to receive up to 600 EUR compensation per person in your party..
Claim Now!
Beat the Queues
Don't stand sweating for 45 mins waiting for Security. Get a fast track and get through in 5 mins or less.
Book now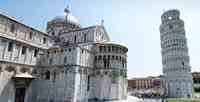 Most people will at one point or another have seen pictures of the famous leaning tower of Pisa...