Pisa Airport Departures (PSA)
Not all flights may be showing. If not available use search above to find your flight by airline, airport or flight number.
Destination
Airline
Flight no.
Scheduled
Est./Actual
Status
Frankfurt (FRA)
Air Dolomiti
EN8873 expand_more(1)
06:25
Scheduled
Frankfurt (FRA)
Lufthansa
LH7403
06:25
Scheduled
Cagliari (CAG)
Ryanair
FR9931
06:30
Scheduled
Elba (EBA)
Silver Air
SLD208
06:45
Scheduled
Catania (CTA)
Ryanair
FR6491
07:00
Scheduled
Cologne (CGN)
Eurowings
EW897
07:25
Scheduled
Amsterdam (AMS)
easyJet
U27826
07:35
Scheduled
Tirana (TIA)
Albawings
2B230
07:40
Scheduled
London (LHR)
British Airways
BA607 expand_more(1)
07:55
Scheduled
London (LHR)
American Airlines
AA6843
07:55
Scheduled
Comiso (CIY)
Aeroitalia
XZ3817
07:55
Scheduled
Comiso (CIY)
Flexflight
W28568
07:55
Scheduled
Berlin (BER)
easyJet
U25066
08:15
Scheduled
Malaga (AGP)
Ryanair
FR772
08:20
Scheduled
Stockholm (ARN)
Malta Air
FR7990
08:20
Scheduled
Stockholm (ARN)
Norwegian
D84370
08:20
Scheduled
Lamezia Terme (SUF)
Malta Air
FR6936
08:35
Scheduled
Cork (ORK)
Ryanair
FR8129
08:40
Scheduled
Madrid (MAD)
Ryanair
FR9471
09:00
Scheduled
Alghero (AHO)
Ryanair
FR7998
09:00
Scheduled
Oslo (OSL)
Norwegian
DY1867
09:00
Scheduled
Berlin (BER)
Ryanair
FR9955
09:10
Scheduled
No flight departures were found at Pisa Airport.
Flight Departures at Pisa Airport
Pisa airport departures are offered a great variety of services and facilities at the airport.
On the first floor of the terminal passengers have access to Devitalia's Internet Point, where last minute checking of flight information, retrieving emails from family and friends and printing of boarding cards as well as online ticket reservations can be made. Devitalia's Hot Spot WiFi access is easy to connect to and free of charge to all passengers.
There are also Telelink Internet Kiosks in the departure areas, where black and white as well as colour printing is available together with Laptop, Pen Drive and Infra Red ports.
For last minute cash requirements there is a branch of Cassa di Risparmio di Pisa, where Pisa Airport departures can withdraw money on the first floor of the passenger terminal. The branch is open for business from Mondays to Saturdays with the opening hours running from 8.30 am to 7.30 pm from Mondays to Friday and from 8.30 am to 1.30 pm on Saturdays.
Other ATM cash machines are also available on the first floor next to the bank's branch and on the ground floor, close to the escalator. Departures at Pisa Airport wishing to exchange currency can do so in the departure hall, where the exchange bureau is open from 7.00 am to 8.00 pm daily and just before reaching the Security Control sector, where the bureau is open from 9.00 am to 9.30 pm daily.
Travelling can be rough on one's nerves and one's complexion - for last minute beauty and relaxation treatments there is a beauty salon with a hair dresser taking care of a little pampering for passengers about to depart from Pisa's airport. For more energetically minded passengers, who have time at their hands before their departure flight, the ballet school and fitness center might be just the thing.
Scuola di Danza E. Ghezzi is located inside the new building A, right next to the railway station and offers dance classes in ballet as well as contemporary dance - why not take a few intensive Tango or Flamenco lessons and surprise your partner when you get home?
Families travelling with small infants will find Baby Rooms inside the restrooms located throughout the passenger terminal. For quiet contemplation a Catholic Chapel, located on the first floor of the passenger terminal, welcomes visitors every day from 7.00 am to 8.00 pm.
Business travelers and leisure passengers on a longer trip might occasionally be in need of laundry services and professional tailoring. Such services are available at the Hall Check-In B, near the railway station. Passengers can collect their clothing after a short time, but should remember that hand luggage is restricted to a certain size - in other words, checking-in luggage will have to wait until the dry cleaning service has finished with the suit, if the item is supposed to go back into the suitcase!
Departures at Pisa Airport are subject to stringent security measures. Only one piece of hand luggage is permitted and the maximum weight for this item can vary according to individual airline policies.
For last minute shopping passengers have plenty of choices at the Galilei Shopping Center as well after passing through Security Controls, where Duty Free shopping is available. The shopping center focuses on "Made in Italy" goods, ideal for souvenir purchases like Italian wines and delicatessens from Colline Toscane or cashmere treasures from Leopolda's boutique or fashion accessories from Rossella Carrara!
The snack bars, cafes and bars as well as restaurants offer a large choice of Italian cuisine to departures at Pisa Airport, but there are also international food outlets serving steak and burgers.
Passengers leaving from Pisa's airport can check-in either online from their hotel, home or office or at the airport's check-in desks. Airlines offering online check-in include Air France, Air One, Alitalia, British Airways, Delta Air Lines, EasyJet, Germanwings and Lufthansa, Iberia and Jet2.com, Ryanair and Transavia, Vueling and Wizz.
Was your flight delayed or cancelled?
You may be eligible to receive up to 600 EUR compensation per person in your party..
Claim Now!
Beat the Queues
Don't stand sweating for 45 mins waiting for Security. Get a fast track and get through in 5 mins or less.
Book now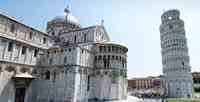 Most people will at one point or another have seen pictures of the famous leaning tower of Pisa...